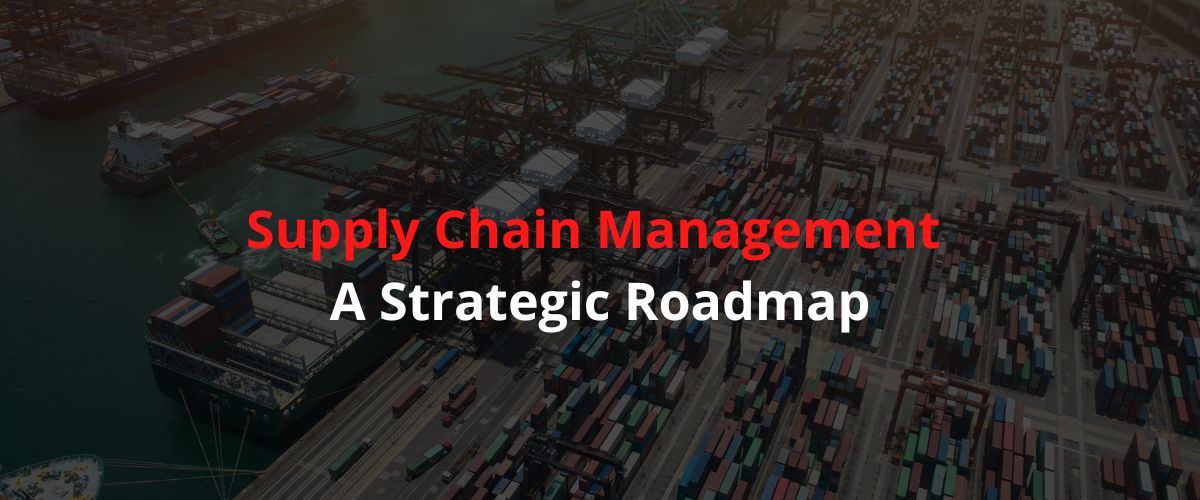 Volatility of demand and dynamics of rapidly transforming global markets have warranted building up a robust Supply Chain Strategy. It is imperative that it is strong enough to withstand any disruption.
Bottom-line of any business suffers in the absence of an integrated and agile Supply Chain Management Strategy.
The right supply chain planning strategy enables:
Reduction in costs
Improvement in customer service
Achievement of business goals
Comprehension of historical data
Location of inventory
Adaptation to changing demand
Connotation Of Supply Chain Strategy
A Supply Chain Strategy entails a process that manages networks and services between suppliers and companies without causing friction. It lays down roadmap for products, services and market interactions. It must involve end-to-end supply chain processes.
Implementing the best supply chain management strategy is crucial for:
Improving Operational Efficiency
Enabling Profits
Reducing Overall Costs
Demand Fulfilment
Building an Efficient Network
Driving Customer Loyalty
Improving Responsiveness
The task of a Supply Chain Strategy is to bring goods into the business and eventually deliver them in effective manner to the customers. The strategy optimizes operations to reduce costs and maximize profits.
Optimizing Supply Chain Network
While keeping costs down, companies need to find ways to make their supply chains more efficient and flexible. This implies ability to provide the right amount of product to customers in the right place and at the right time.
A Supply Chain Strategy stands for a plan that an organization formulates to manage the flow of goods and services, from sourcing raw materials to delivering products to customers.
It underscores the key processes, technologies, and partnerships that the organization will use to optimize the efficiency and effectiveness of its supply chain.
Components Of Supply Chain Strategy
1. Sourcing
Sourcing involves identification and selection of suppliers and managing the relationships with those suppliers to ensure that they can meet the organization's needs for quality, cost, and delivery.
2. Logistics
Logistics includes managing the movement of goods and materials through the supply chain, from the point of origin to the point of consumption. Including transportation, warehousing, and inventory management.
3. Production
Production includes the processes and technologies that are used to turn raw materials into finished goods. Including managing the flow of goods through the organization's own production facilities.
4. Distribution
Distribution involves delivery of the finished goods to the customers including: Managing the organization's own distribution centres, working with third-party logistics providers (3PLs) and other partners to deliver products to customers.
5. Customer Service
Customer Service includes managing the relationship with customers, including:
Taking orders
After-sales service
Handling returns and complaints
Supply Chain Strategy is a dynamic process. It is an ongoing process and calls for review, new trends, technologies, competition. Also, other factors may require adjustments and refinement.
"Supply Chain is like Nature, it is all around us"

Dave Waters
Role And Significance Of Supply Chain Strategy
With ever-changing customer demands, a well-developed Supply Chain execution strategy is more significant in short- and long-term business plan of any organization.
Absence of an integrated and agile Supply Chain Management Strategy, adversely impacts bottom line of any business.
Adopting the right Supply Chain Planning Strategy can help to:
Reduce costs
Improve customer service
Support business goals
Understand historical data
Know where your inventory is
Adapt to changing demand
Types Of Supply Chain Strategy
1. Client Centric
Fulfilling client demand would not be possible without automating processes that give primacy to client's needs. This method helps incorporate information from structured and unstructured data. This data gives accurate information on:
Sentiment analysis
Point of sale
Social media activities
Emails
Number of orders
It facilitates analysis of actual demand for better decisions and improve overall performance.
2. Predictive Business
Predictive tools manage and adjust shipments based on weather or traffic.
Complete visibility of your entire network's assets, products and equipment can be achieved.
It includes the machinery within the system, commercial assets, products and more.
3. Visibility
Supply Chain visibility provides real-time insights on goods that are still in transit or production.
It is possible to analyse real-time weather pattern, accident and traffic jam disruption updates to see how they impact sales.
These insights enable better collaboration across:
Manufacturing industries
Warehouses
Partners and distribution centres
Extended supply chain visibility helps to:
streamline cross-border transactions
reduce exposure during product recalls and
maximize sustainability across your global supply chain
4. Smart Automation
With a smart automation strategy in play, it is possible to utilize warehousing solutions to streamline processes between systems, human workers and robots to achieve multiple benefits such as:
Mass product customization
Improved delivery and distribution processes
Flexibility to eliminate carrying costs
5 Essential Techniques Of Supply Chain Management
Supply Chain Strategy can be implemented only through strong supply chain techniques. These techniques constitute the backbone of the Supply Chain Strategy implementation.
Supply Chain techniques are the bunch of activities that the SCM process should incorporate to achieve the objectives set in the SCM strategy.
According to Jacoby, the essential Supply Chain techniques are:
Technique # 1. Supply Chain Network Design.
Technique # 2. Capacity Planning.
Technique # 3. Risk Management.
Technique # 4. Organizational Change Management.
Technique # 5. Performance Measurement and Monitoring.
"Those in Supply Chain know the Impossible is Possible"
How To Implement Supply Chain Strategy
1. Identify Nature Of Demand Types
Identify the type of demand business regularly faces – seasonal, linear or consistent?
Frequency of shipments. Are there frequent fluctuations- weekly or monthly?
Strategies or tools to use for demand forecasting.
2. Understand The Product Portfolio
Companies must consider implementing different Supply Chain Strategies for individual product lines to optimize supply and demand simultaneously.
3. Know Customer's Location
Having insight into their location of customers enables to implement the right Supply Chain Strategy for regional or global shipments.
4. Manage Inventory
Real-time updates give an idea about inventory size, nature and complexity.
5. Know Suppliers' Locations
It is necessary to identify suppliers' location.
5 Key Capabilities Of Successful Strategy
Supply Sense: What is possible in supply chain.
Supply Response: Operations that make things happen, such as manufacturing and asset management.
Deciding and Committing: Orchestrating end-to-end capabilities.
Demand Sense: Learning, knowing and monitoring what customers want.
Demand Response: Order fulfilment processes that help give customers what they want.
Focus Of Supply Chain Strategy
There are two modes for developing Supply Chain Strategy.
1. Supply Chains Oriented To Efficiency
These suit industries where products are either low cost or high revenue or both-cement, steel, paper commodities.
2. Supply Chains Oriented To Responsiveness
This is suitable where there is high demand uncertainty and customer or market needs can change quickly.
Phases For Creation Of Supply Chain Strategy
1. Supply Chain Strategy Design
Decide the company's strategic objectives and KPIs.
Review and choose suppliers.
Decide location of warehouses.
Implementation of software throughout the supply chain.
2. Supply Chain Strategy Planning
To ensure that you have:
The right goods
At the right time, and
In the right place to meet customer demand
3. Supply Chain Strategy Execution
Manage warehouses and inventory levels to ensure the company can meet customer demand.
Components Of Supply Chain Planning Strategy
1. Integration And Departmental Communication
A single view of accurate and reliable information across business is critical for coordination, measurement, and control.
A fully integrated system that tracks real-time information means one can plan for and mitigate supply disruptions.
2. Day-To-Day Operations Management
Efficient operational processes can reduce costs and facilitate smoother fulfilment. Keeping inventory levels lean with buffer stock minimizes the impact of supply chain disruption.
3. Purchasing
Accurate demand forecasting is vital to ensure replenishment meets demand and avoid over or understocking.
4. Distribution and Logistics
Companies confront quite a few challenges in distribution and logistics:
To reduce costs.
Need to consider sustainability, people, processes.
Alternative methods in case of disruption.
Need to coordinate customer orders with delivery schedules, invoices, and dispatch.
Top Supply Chain Strategies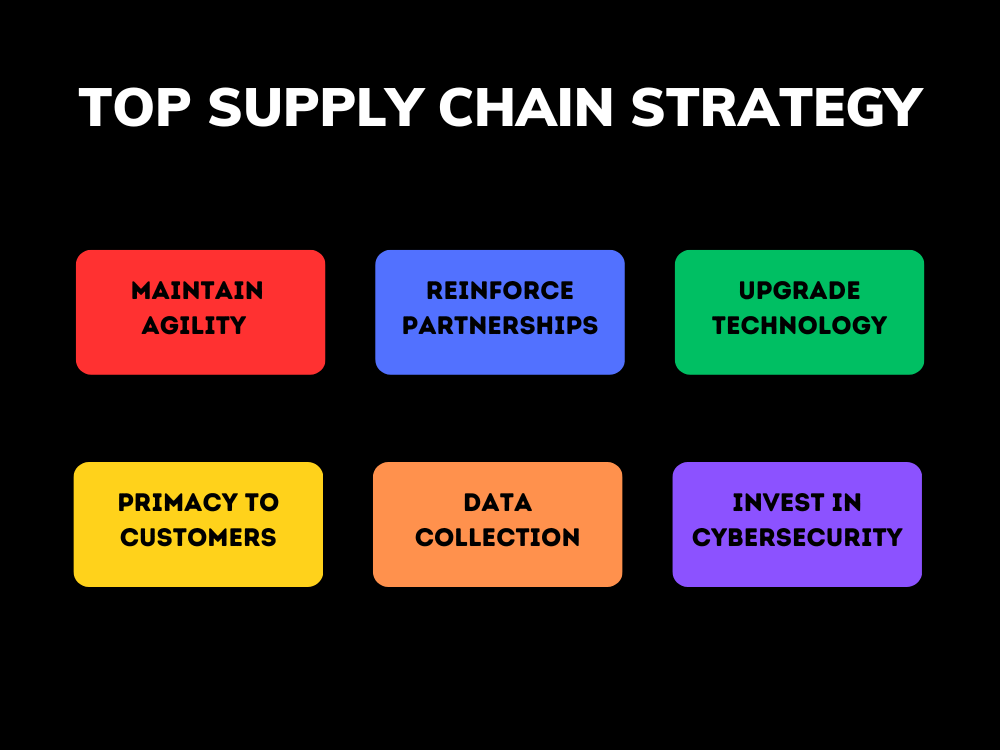 1. Maintain Agility
A contingency plan helps business to maintain agility. For example:
Integrating smart warehousing and technology.
Collaboration with multiple manufacturers.
Stocking inventory in multiple distribution centres.
2. Reinforce Partnerships
Strengthening relationships with multiple suppliers and partners can create competitive supply chains. It improves delivery service, quality and market share while reducing product development cycles.
Open-ended communication leads to better decision-making and exchange of information.
3. Upgrade Technology
Some major ways to streamline and optimize include:
Employing best-in-breed logistics and supply chain management tools.
Deploying a transportation management system (TMS) in conjunction with supply chain
ERP solutions to improve visibility, automation, transportation planning, freight management execution.
4. Primacy To Customers
It is vital to address your end consumer's expectations for product features, price, quality, purpose and more.
5. Data Collection
It is essential to collect extensive data for improving the decision making process..
Supply chain analytics provides beyond traditional datasets for analysis and applies statistical methods to create new insights.
6. Invest In Cybersecurity
As digitization takes over, cyber threats are increasing at an alarming rate. It is essential to boost investment in cyber security.
Developing An Effective Supply Chain Strategy
A good Supply Chain Strategy is about:
fulfilling demand
driving customer value
improving responsiveness
facilitating financial success
building a good network
The primary goals of efficient Supply Chain Management should be
faster delivery
higher efficiency
accelerated cash flow
A robust Supply Chain Management Strategy can also reduce risk and lower the impact of disruption in the supply chain. Processes and systems to help respond to issues will aid with faster recovery and enable you to build or maintain your competitive advantage.
Ways To Optimize Supply Chain Strategy
1. Supply Chain Network Design
Supply chain network design, also known as strategic planning, uses simulation tools to replicate a company's inbound and outbound transactional data.
This type of supply chain network strategy is used to understand the cost and time it will take to deliver goods to the market.
2. Demand Planning
Right demand forecast planning tool should be at your disposal to offer right product, through the right channel, at the right time, place and price.
3. Inventory Optimization
Proper inventory management helps determine the best product position in network to maintain service levels while reducing overall holding costs.
This helps to understand your cost of inventory relative to the sales of your product.
Inventory optimization, or product flow optimization, helps business by:
improving inventory turns
reducing capital risks
reducing distribution centre storage requirements
4. Sales and Operations Planning
With the help of planning and execution, businesses should be able to align objectives across departments while matching consumer demand with supply from manufacturers.
5. Workforce Management
Organizations can help to optimize their workforce operations by implementing
Lean processes
New labor management systems
Engineering
Creating labor standards
Training workforce
Strategies For Supply Chain Management
A firm can opt to follow a variety of strategies differing in their overall emphasis.
1. Rationalization Strategy
Rationalization strategy places greater emphasis on process rationalization that eventually leads to better net margin.
Such a strategy involves closely assessing the processes and working out ways of reducing wastage wherever possible.
It emphasizes on operating expense management, without reducing customer service.
Typical elements of the rationalization strategy would involve devices such as:
Transportation optimization
Lean manufacturing
Electronic data interchange (EDI)
2. Synchronization Strategy
Synchronization strategy involves streamlining the supply chain process for a flaw­less, reliable execution of the supply chain process.
It places emphasis on cost reduction process by efficiency in managing the assets.
Synchronization strategy involves elements like:
Collaborative inventory management
Perfect order fulfilment
Anchor players
Optimal inventory placement
Both rationalization and synchronization strategies have the same goal—cost reduction. However, the two seek to achieve it through different means.
3. Customization Strategy
Customization stra­tegy is associated with responsiveness and flexibility.
It involves developing specific strategies for profitable customers and executing it with a view to establishing a long-term relationship with them.
Responsiveness is measured in terms of the 'Velocity' with which the supplier provides products to the customer.
Flexibility is measured in terms of the 'agility' with which the supplier responds to the changing needs of the customer.
The elements of customization strategy involve:
Mass customization
Lifetime relationships
Customer profitability management
Customer knowledge management
Value analysis
4. Innovation Strategy
Innovation strategy involves exploiting the competitive advantage generated by a strong supply chain to introduce successful new products in the market at a much higher rate than competitors.
It essentially boils down to involving the supply chain partners in developing new products and integrating the supply chain processes.
As a business owner, your job is to meet your customers' needs in the most cost-effective and efficient way possible. The key to doing this is managing your supply chain.
Getting the right Supply Chain Strategy ensures maximisation of the ROI from international and local suppliers while keeping your customers happy.
Supply Chain Optimization Can Help To:
Reduce costs by improving the efficiency of processes.
Build better relationships by working more closely with suppliers.
Drive bigger profits by driving efficiency and cutting costs.
1. Demand Driven Supply Chain Strategy
A demand-driven supply chain focuses on meeting demand from the consumer.
The advantage of a demand-driven Supply Chain Strategy is that it helps businesses to meet customer demands, enabling your business to forecast future demand and provide appropriate staffing to support that demand.
On the flipside, adopting a demand-led Supply Chain Strategy can be time-consuming and getting the figures right is complicated. Figures are can be interpreted in different ways by different people, leading to potential bias or uncertainty.
2. Agile Supply Chain Strategy
An agile Supply Chain Strategy is about reacting to consumer demand quickly and changing supply chain based on changes in the
Market
Material availability
Seasonal fluctuations
Consumer demand
An example of an agile supply chain might be where a company buys partly finished materials and then quickly customises the product in response to current market conditions.
Agile supply chains work well if you are making products that change quickly or have a short lifespan. They allow companies to offer a broader range of products, in some cases and deliver those products to customers much more quickly.
The downside of agile supply chain strategies is that they don not always work well if you need long-term resource planning, and it can be hard to track production progress.
This can lead to higher levels of waste and inefficiency.
3. Collaborative Supply Chain Strategy
In some cases, different businesses in the same supply chain can collaborate to improve the efficiency of the complete supply chain.
For example, you might collaborate with a supplier to provide a better transportation service, or jointly make changes to reduce waste or purchase raw materials.
This type of collaboration is not always easy, but it can deliver significant savings and performance improvements.
The advantages of collaborative supply chain strategies are that businesses can share costs and risks.
However, this will only happen if there is clear communication and an agreement on the priorities and goals of any collaboration.
An organization's Supply Chain Strategy is normally influenced by a set of factors such as:
Industry
Company value proposition
Internal decision-making processes
Business goals
As the global market becomes more complex, proactively establishing a Supply Chain Strategy is critical for any business that turns raw materials into finished goods.
This includes industries such as manufacturing, retail, construction, and wholesale or distribution.
Notable Actions In Strategies For Supply Chain Management
1. Place Buffers Along Supply Chain
Strategically placing buffers can help organizations absorb the impact of unexpected delays. There are three types of buffers one can implement along the supply chain:
Inventory: Keep safety stock or buffer stock to protect against delays or demand surges.
Time Buffer: Materials arrive before demand to protect an upstream or downstream process or delivery point.
Capacity Buffer: Leverage underutilized space like warehouses or production facilities.
2. Diversify Manufacturing And Sourcing Network
Supply Chain disruptions have intensified over the past decade. Hence, procurement functionaries realise that it is risky to rely on a single source to get products.
Diversifying network (also called multisourcing) starts with categorizing partners based on two criteria:
Current cost and financial impact if that partner can not follow through in the event of unforeseen circumstances.
Then, you can forge relationships with additional suppliers or a supplier who has capabilities in multiple locations.
3. Invest In Demand Forecasting
Demand forecasting is the process of using data to gauge the demand for materials ahead of time, so one does not come up short when it matters most. Accurate demand forecasting improves lead times, cuts costs, and improves customer satisfaction.
There are numerous methods to predict demand, like:
Surveying customers.
Monitoring social media.
Reviewing historical data and trends.
Soliciting advice from a consultant.
4. Standardize Processes
Consistent Supply Chain operations make the business more trustworthy dependable. This is especially true for organizations whose suppliers and manufacturers are scattered across the world.
"Optimizing your Supply Chain is an investment, not a cost. There's no one single best way to create a winning Supply Chain Strategy"
In Retrospect
The Supply Chain is the most critical business function. It has necessarily to align to business goals of the organization. In the current dynamic state of the global economy, the Supply Chain is driven by the customers to meet their exceeding demands and expectations. This is notwithstanding complexities and turbulence of business environment.
"Transparency greatly reduces 'SURPRISES' in the Supply Chain. Talk, Communicate, Share, And Collaborate."