At the end of elaborate and uncomfortable Sales Negotiation have you ever felt disgusted as Business Owner for:
Leaving substantial value on the table for your buyer.
Leaving money on the table for your company.
Relegating your hard work to nowhere.
Leaving a sour taste in the mouth of your buyer.
Signing up what you just cannot deliver.
Then, it is high time to understand that mastering the craft of Sales Negotiation constitutes the cornerstone for the long-term success of the business. Especially so, in the backdrop of the fiercely competitive scenario of global business.
Sales Negotiation creates profitable outcomes for both the Buyer and the Seller. It aids in building mutual trust, appreciation of needs, and establishing lasting relationships.  It is imperative to gauge and harness the power of effective Sales Negotiation.
Sales Negotiation Encounters Some Pains Such As:
The seller might have a certain price in mind, while the buyer is aiming for a lower price.
Entering a negotiation without adequate preparation relating to information on the other party, the market conditions, or the value of the product or service being negotiated.
 Miscommunication leads to misunderstandings and conflicts during the negotiation process.
Emotional Decision-Making
Emotions overpower rationality in decision making especially when stakes are high.
Connotation Of Sales Negotiation
Sales Negotiation is a strategic process in a business where the seller and the buyer aim to reach a consensus on the terms of a deal which, inter alia, incorporate:
Price, delivery, quality, quantity, and service.
Besides closing the deal, Sales Negotiation aims to create a win-win situation where both parties feel satisfied with the outcome. It focuses on achieving the desired result rather than reaching an agreement.
In the process of Sales Negotiations, buyers and sellers communicate:
What they need.
Where they may be willing to make concessions.
When compromise is required to reach an agreement.
Most compromises involve price or contract terms and conditions.
Negotiations typically include some degree of back and forth. Both parties approach the discussion with concessions they are willing to make.
It is essential to strike a balance between accommodating your prospect and bringing back a financially viable deal.
Sales Negotiation witnesses a variety of sticking points such as:
Overall pricing
Delivery costs
Timeline
Length of contract
Challenges In Sales Negotiation
Establishing, trust can be challenging with new clients.
Balancing Assertiveness and Empathy
Striking a balance between assertion and empathy can be difficult.
Even after reaching a tentative agreement some unforeseen circumstances may crop up
Sales negotiation is a delicate art. You can quote a price, send over a contract, bank on landing a deal, and start celebrating — only to receive the dreaded email: "I'd like to talk about some of the details of this contract.

HUBSPOT
Way To Overcome Sales Negotiation Challenges
Although these challenges can be daunting, they can be tackled by:
Setting clear expectations
Thorough homework before negotiation
Clear and unambiguous communication
Rational attitude
Establishing trust
Assertive attitude
Empathy
Close follow-up
Styles Of Sales Negotiation
Essentially there are two Styles of Sales Negotiation.
1. Consultative or Collaborative Negotiation
2. Adversial or Competitive Negotiation
"If you want to reach an agreement, move from a competitive mindset to a cooperative one."

Tendron
Preparation
In sales negotiations, preparation gives leverage to the seller.
Ascertain the requisite details to strengthen your bargaining power.
Requirement of the buyer
Loss to the buyer if he does not buy from you.
Whether dealing with the decision-maker.
Buying schedule.
Budget for buying
Priming
Approach the prospect with a problem-solving mindset rather than a solution provider.
Pain points
Ensure to highlight pain points during sales conversations and state how you can address their concerns.
Create Agenda
Creating the meeting agenda involves drafting the schedule to navigate the meeting. Stipulate the objectives. This will address the buyer's pain points.
Highlight What They Can Lose 
Highlighting what your buyer can lose in a negotiation is more likely to secure a sale.
Prioritize Value Over Money
Help your customer understand how your product is more advantageous to them than the one offered by competitors.
Priority To Listening
Use probing questions to uncover the underlying issue.
Objection Handling
Your ability to handle objections will help you navigate negotiations better. It warrants strong product knowledge and the ability to react.
Bring Up The Price
Share the pricing parameters proactively.
Proceed Smartly
Review the following parameters before negotiating the price.
Do not be quick to offer discounts as the prospect may assume your product is undervalued.
When deciding on a concession amount, consult the industry benchmark research report.
Handle Emotions With Care
It is essential to make the buyer feel respected and valued for a sustainable relationship.
Secure Commitment 
After securing a mutually agreeable outcome, get a confirmation.
Mistakes To Avoid In Sales Negotiation
Do not negotiate over email.
Prefer to request a quick phone/video call so you can answer any objections instantly and tailor solutions that fit their needs.
Do not apologize for the pricing.
Nature Of Sales Negotiation
Sales negotiation is a dynamic and interactive process.
Its characteristic features are:
1. Bilateral Discussion
Both parties – buyer and seller-express their needs, concerns, and preferences.
2. Interdependence
The seller wants to make a sale, and the buyer wants to purchase a product or service that meets their needs.
3. Flexibility
Both parties need to be willing to adjust their initial positions to reach an agreement.
4. Decision-Making
It involves making decisions about various aspects of the deal, such as price, quantity, delivery, and payment terms.
Importance Of Sales Negotiation
Sales negotiation is a vital skill in the business world. It involves a bilateral discussion where both parties aim to reach a mutually beneficial agreement. The importance of sales negotiation lies in its ability to:
create value
provide a competitive advantage
resolve conflicts
build relationships
Mastering sales negotiation requires:
Preparation
Active listening
Effective communication
Problem-solving approach and patience.
By understanding and applying these principles it is possible to be a more effective negotiator and achieve better outcomes in business dealings.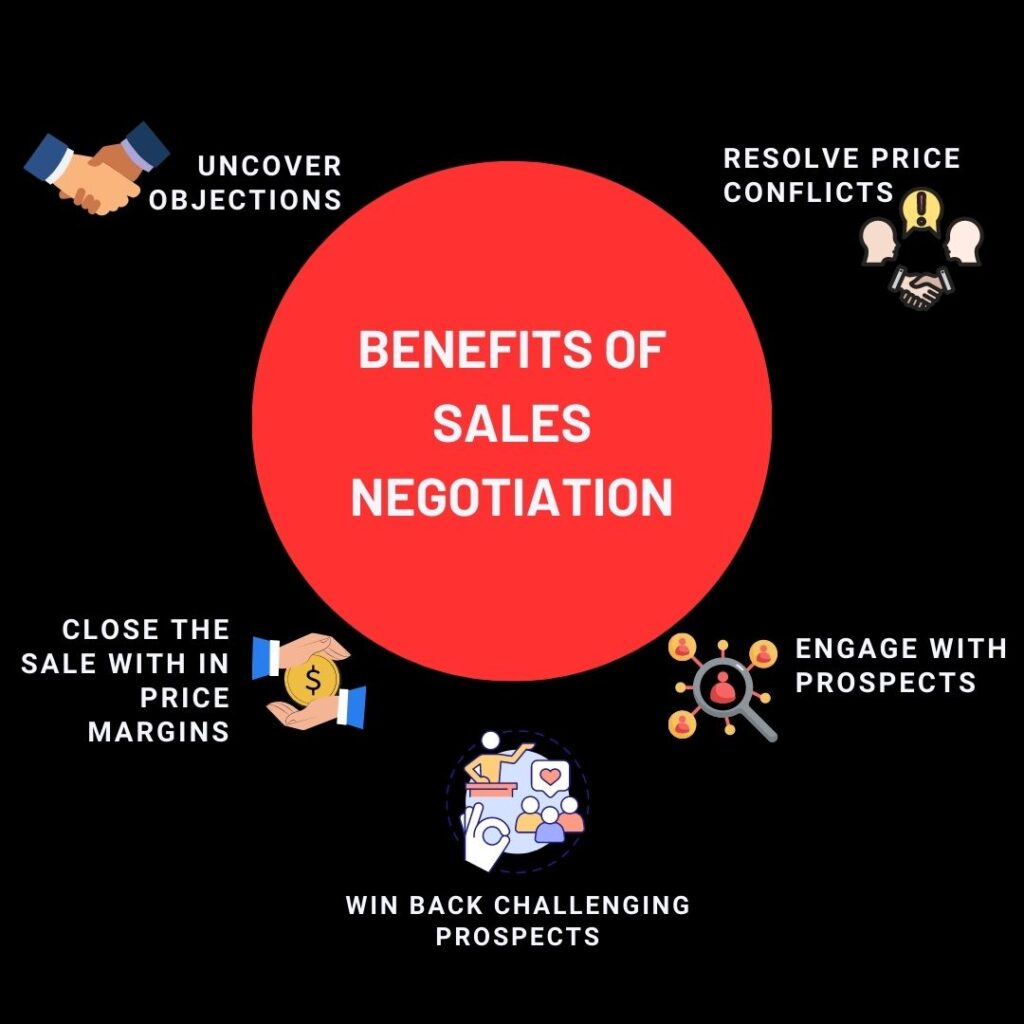 The Rationale For Sales Negotiation
To maintain margins for your products and services to generate increased revenue to develop better products and maintain better services.
To build your reputation as a quality manufacturer to open up new markets for your services.
To score over competitors to get a better 'deal'.
To boost profitability and get a wider audience to experience your products.
5 Stages Of Sales Negotiation 
Negotiation Stage 1 – Preparation
Efforts are made to identify the needs, wants, and desires of the other party.
Negotiation Stage 2 – Information Exchange
Decision-making criteria are discovered.
Negotiation Stage 3 – Bargaining
Tactically to ensure that the other party sees benefits to them that will also attribute benefits to yourselves.
Negotiation Stage 4 –Gaining Commitment
The negotiation involves moving forward by analyzing and confirming the agreed points in the negotiation movements.
Negotiation Stage 5 – Taking Action
Concept of LIMITS
The Sales Negotiations revolve around the acronym LIMITS
The L of limits stands for what you would like to achieve.
The I of limits means what you intend to achieve
The M of limits dictates what you must not go beyond.
Finally when positions in a Negotiation are within your L, I and M window, then IT'S a deal.
This would be you must not go beyond level.
Tips To Improve Your Negotiation Skills
Tips For Conducting Sales Negotiation
Be prepared
You must know how to negotiate with the customers to negotiate with them effectively and offer specific compromises for them and close the deal.
Identify decision-makers
Identify the decision-maker to direct your attention to them and increase the chances of closing a deal.
Actively listen
Active listening to address their concerns can help you answer questions they have and offer the best solutions for compromise. Make them feel respected.
Strategize
Consider stepping away from the customer to strategize with your team to obtain advice on what compromises to suggest or concessions to allow for closing the deal.
Address underlying concerns
It is helpful to address the underlying concerns of buyers' hesitation to buy.
Stay positive
Staying positive can help maintain good customer relations. It is so essential to create repeat customers and generate potential leads.
Build trust
Build trust with repeat customers to get to know your target demographics.
Use empathy
The use of empathy could mean those customers return to make a purchase in the future or recommend your company to their friends and family.
Emphasize value
Emphasize the value of the deal to the customers.
How To Proceed For Success In Sales Negotiation
Negotiation Tip #1: Enquire your customer's goals.
Ask the right questions.
These questions help you understand the financial and non-financial impact of their challenges. It also allows you to make a stronger pitch based on real value.
Negotiation Tip #2 Embrace the uncertainty that comes with negotiations.
Negotiating, fundamentally, is uncertain and therefore uncomfortable
Uncertainty leads to creativity. Creativity leads to better value. Consequently, better value leads to long-term buyer-seller relationships.
Negotiation Tip #3: Know when not to negotiate.
Under three situations never negotiate: WHEN
You are not dealing with the decision-maker.
Your product or solution is not appropriate.
You have not established value for the buyer.
Negotiation Tip #4:Learn from the failure of past
Analyze your history to gain a better understanding of the failures of your deals. This will facilitate you to create value for yourself as well as your buyer.
Attributes Of Good Negotiators
ZOPA
ZOPA stands for the zone of possible agreement.
ZOPA is a way of visualizing where the positions of the parties to a negotiation overlap.
It is within that zone that compromises can be reached.
BATNA
BATNA stands for the best alternative to a negotiated agreement.
It refers to the next course of action a negotiator may take if a negotiation fails to arrive at a satisfactory conclusion.
Keep Attributes of Successful Negotiator
The best negotiators are great listeners. This allows them to read between the lines and understand which issues are most significant to each party.
The best negotiators prepare fully by studying every aspect of the negotiation. This includes: who's attending, the other party's history, other deals they may have, and what their most important positions may be.
Try to anticipate concessions needed to be given.
If you are able to start discussions closer to your opening figures it leaves you with an advantage.
Guard against Counter Tactics
The best negotiators are able to identify and avoid the tactics and traps of the opposition's argument.
These include: saying they won't even consider something, passing their problems onto you, like budget constraints, and trying to flex their leverage.
 Notable Sales Negotiation Strategies
Before you start dealing you need to make sure you're selling to the right customers. One reason sales professionals struggle to close deals is that they're not getting to the real decision-makers."…….

Before you sit down to negotiate, ask pointed but diplomatic questions like "Aside from you, who else are the decision-makers?" or "Every company's different. How does your company make a decision like this?"

Calum Coburn
1. Emphasize what your prospect stands to lose
Loss aversion is the idea that losses usually make a much bigger psychological impact on us than gains of the same size do. During negotiations, try framing your sales offering as an opportunity to avoid losing revenue, credibility, or competitive ground, rather than as a chance to save money, improve their reputation or gain a competitive edge.
Merit:
Your sales pitch is more likely to clinch a deal when you emphasize the downside of not signing.
Demerit:
Take care that prospects familiar with cognitive biases like loss aversion do not feel you are trying to manipulate them.
2. Mirror your prospect to foster cooperation
Negotiating with a sense of inevitability.
Subtly mimicking a prospect's speech or physical gestures helps to build rapport and empathy during the selling process and helps negotiating parties find common ground.
Merit
Mirroring encourages buyers and sellers to reach similar conclusions.
Demerit
It may feel contrived without practice.
3. Use independent standards to bridge gaps in price, terms or conditions.
Introducing independent, unbiased information standards like past contracts,
industry benchmarks and
Credible third-party references in your sales negotiation can help you bridge large agreement gaps in a way that feels fair to everyone.
Merit
Independent negotiation standards are an effective way to objectively support the details of your offering.
Demerit
Do not use this as a tool for pointing out errors in your customer's thinking.
Parameters Of Strategies For Negotiating
a winning deal that Works for you and your buyer.
Lead negotiations
Manage emotions
Build value
Offer trades
Identify decision-makers
Walk away if necessary
Stay positive
Vital Skills Needed To Develop As A Sales Negotiator
1) Top negotiators develop and possess exceptional listening skills. Hence, they are to think creatively and flexibly about the direction that the negotiations are going.
2) Top negotiators prepare fully by reviewing everything important pertaining to negotiation such as:
Who is attending?
their company information,
what their main decision-making criteria could be and
what their position and interests are in the negotiation.
3) Having an appreciation for the dynamics of the negotiation is another quality. You need to identify the alternatives that both sides could discuss. As a result, the dynamics of any negotiation can change with the progress of the discussions.
4) Top negotiators plan a BATNA. This acronym stands for Best Alternative to a Negotiated Agreement. You need to be able to walk away if the terms you are discussing do not match your map of reality.
5) Top negotiators also work on how much they are willing to concede before the negotiations even start.
6) Top negotiators work not on positions alone in a negotiation but also on the interests that the other parties have.
They may take a position that you have difficulty in understanding. Finding out why they are taking this position could uncover certain interests that were not known during the negotiations.
7) Top negotiators set the scene for negotiations by setting out the parameters first, so the other party has something to gauge their position against.
8) Top negotiators look for alternatives to the stated positions as BATNA in negotiation (best alternative to a negotiated agreement). What you are trying to find out if any of the alternatives that you could come up with could deal with the key interests of the other party. This will help you to determine what movement both you and the other party are willing to accede to.
In Retrospect
Effective sales negotiation is an essential aspect of the sales process that can drive organizational growth and profitability.
It ensures that sales professionals close deals in a way that maximizes value. Moreover, it fosters relationships, propels customer satisfaction, and cultivates long-term success.
Investing time and resources into mastering sales negotiation is undeniably a reward for greater success in the hypercompetitive business world.
 Indeed, the ability to negotiate effectively will remain a fundamental skill for anyone seeking to make a significant impact in the sales domain.
"People make their decisions based on what the facts mean to them, not on the facts themselves.

Roy J. Lewicki"