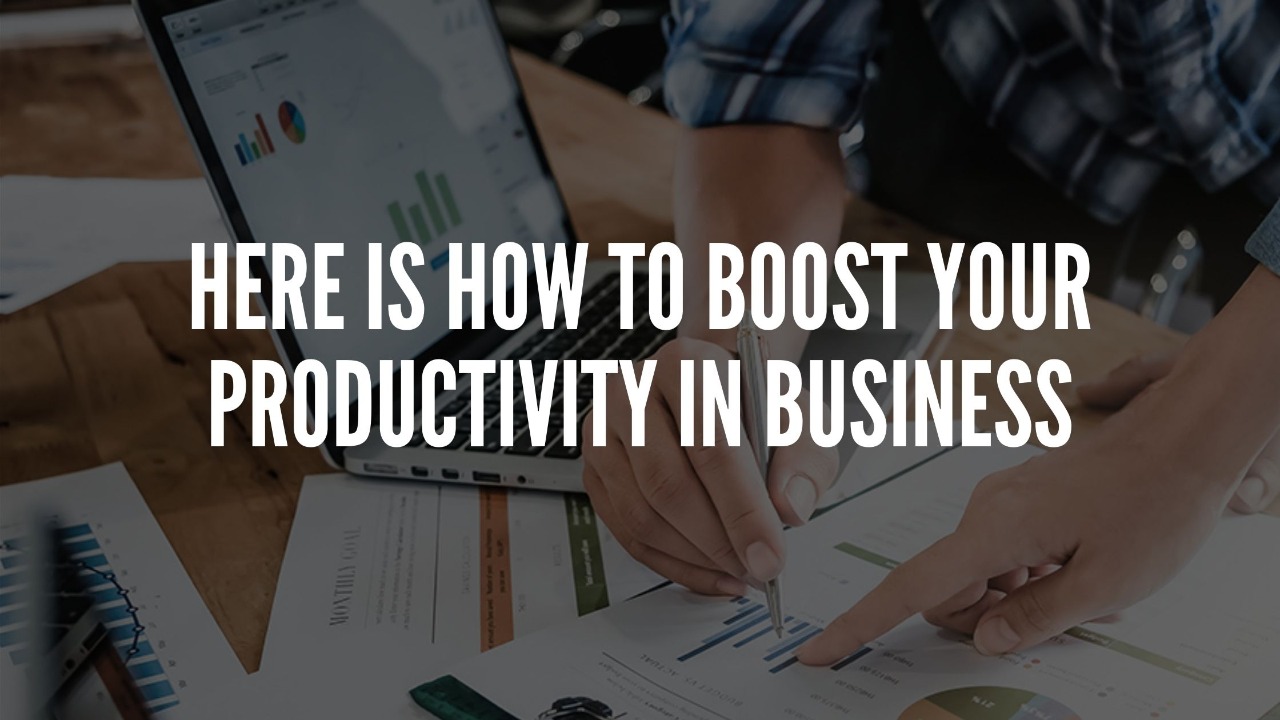 As Business Owners are you encountering these issues time and again?
Are you applying faulty systems in business?
Have your processes and procedures become obsolete?
Are your customers not willing to spend much time on your new solution?
Are your customers uncomfortable using your products?
Are your key personnel working at cross-purpose?
Then mind you – you have a serious issue with PRODUCTIVITY IN BUSINESS!

If you just ignore the matter, it can emerge as a big challenge in times to come.
Meaning Of Productivity
Productivity stands for the output of any production process per unit of input.
Any increase in productivity implies produce more with less input employed.
Productivity involves exploring new methods and techniques to build an efficient environment.
Mathematically, Productivity=Output/Input.
In Manufacturing, Productivity can be measured on the number of hours devoted to producing goods.
In Services, Productivity can be measured on the income generated by the employee divided by his salary and compensation package.
"Without Productivity objectives, a business does not have direction.
Without ProductivityMeasurement, a business does not have control"

(Peter Drucker-Management Consultant)
Significance Of Boosting Productivity In Business
An increase in Productivity leads to either higher output or lower resource cost.
Wider margins bring higher profits to the company.
Profits result in:
Higher investment in R&D.
Continuous improvements in processes.
Higher dividend to shareholders.
Higher wages to workers.
Higher economic competitiveness.
The purchasing power of consumers drives higher demand.
An increase in Productivity yields higher revenue for the government which helps in boosting social investment.
Business Models In Practice To Boost Productivity
1. TQM OR TOTAL QUALITY MANAGEMENT
This approach seeks to improve quality and performance to exceed customers' expectations.
2. KAIZEN
Kaizen is the Japanese model of business strategy. It involves everyone in the company working together to make improvements without larger capital investment.
3. POKA YOKE
Poka-Yoke means avoiding errors in business by use of less energy and time.
4. SMED (Single Digital Minute Exchange)
SMED involves a reduction in setup and adjustment time from hours to minutes.
5. BUSINESS PROCESS RE-ENGINEERING
This concept involves the analysis and design of workflows and processes within the company.
Pre-Requisites For Improving Productivity
Understand the efficacy of desired improvements in activities.
Identify the underlying cause of lack of efficiency.
Communicate relevance of the information to personnel involved in work.
Create an environment conducive to productivity.
A WORD OF CAUTION!!
Changing material without prior knowledge is risky.
Irresponsible way to reduce resources cost oblivious of reality.
Notable Benefits Of Productivity
1. Increasing Profitability
An increase in profitability results when the company discovers means which are less expensive to produce their goods and services.
When workers become more efficient, less labour is required to produce the same quantum of goods.
The company could opt to reduce the number of employees to produce the same output.
However, if it chooses to maintain the same input of labour, it will benefit from an increase in output.
2. Lowering Operational Costs
Companies can reduce operational costs through several initiatives:
By improving personal workflow.
Operational costs can be reduced through investment in technology.
Introduction of flexitime can enhance productivity when people feel more valued and engaged and suffer less from stress as a result of less commuting.
3. Optimising Resources
Better human resource management offers a great opportunity to reduce costs and increase productivity:
Efficient role distribution.
Better and effective staffing.
Optimal workforce utilization.
Improved workflow systems to identify roles which are overlapping.
4. Improving Customer Service
With improved customer service and support, systems run better, and the customer realizes the benefit.
5. Capturing Opportunity for Growth
An increase in productivity is always an opportunity for growth.
If productivity increases, it enables better utilization of resources.
Considerable time can be saved by avoiding mundane tasks and time-wasting activities that pose as valid tasks.
6. Reducing Waste and Environmental Impact
The environment can be improved by saving on wasteful expenditure on electricity.
Heating can be optimized and not wasted.
It creates a more pleasant and healthier working environment.
These results in higher productivity and focus amongst employees.
Good building design that maximizes natural light leads to a reduction in lighting costs as well as an increase in workers' productivity.
7. Improving Competitiveness
Increased productivity results in increased savings by producing at a lower cost than the cost incurred by the competitor.
With faster delivery of service than your competitor, you can serve more clients.
8. Reducing Employee Burnout
When people have too much to do with not enough time, it can result in stress, exhaustion, or total burnout.
Working more efficiently – whether a reduction in time spent on daily processes or a reallocation of roles and responsibilities – results in people being able to cope better with their workload.
Better time management leads to more organized, relaxed, and efficient employees who can focus on their daily tasks rather than facing any distractions.
9. Enhancing Wellbeing
Improved productivity results in the enrichment of personal well‐being involving a state of being healthy, comfortable, and happy.
10. Improving Morale
When companies help employees become more organized and productive, they are investing in
the well‐being of the employee.
Improved productivity is a positive outcome for all.
When employees understand what is improving their efficiency, it can lead to reduced stress and increased control, well‐being and focus.
The employees can embrace the process and accept the benefits that can be secured.
11. Increasing Engagement
More productive workers are usually more engaged in their work.
Engagement is a result of several factors:
Quality of leadership.
The extent of individual autonomy.
Control over work and workload.
Mechanism To Increase Productivity In Business
1. Be Efficient
Ponder over how your business is currently operating.
Be open to the potential of changing the method of working.
Make short-term and long-term list of priorities.
Provide each member of staff with a plan and encourage each to make a list to ensure priorities are met in toto.
2. Delegate
Delegation comes with an element of risk.
Give responsibilities to qualified employees that have a proven track record of success in a certain field, and trust them.
Allow employees the chance to gain skills and leadership experience.
It will benefit your company and provide your employees with a sense of achievement and direction in their own careers.
3. Reduce Distractions
Try to keep employees focused and engaged while allowing them breathing room.
Encourage employees to turn off their mobiles while working.
Permit regular breaks during which they can be free to check their phones.
4. Have the Right Tools and Equipment
Providing employees with the right tools and equipment can enable them to perform their duties efficiently and on time.
High-quality, modern programs and equipment make a massive difference to the workforce.
It also helps enriching the perception about your company and its stature.
5. Improve Workplace Conditions
An environment that's too hot or too cold distracts from concentration.
It is necessary to ensure that both heating and cooling systems are functioning well as per the requirements of the season.
6. Offer Support and Set Realistic Goals
Offer achievable goals to employees.
Provide clear direction to supervisors and employees to help clarify expectations.
This will help to increase their productivity and have a clear focus.
7. Adopt Positive Attitude
Encourage, motivate and reward.
Appreciate the work of employees and give constructive criticism.
Offer personal incentives for doing the job well -like a free holiday.
Clearly indicate the success of one employee to other staff to cultivate a sense of fulfilment to motivate others.
When you motivate your employees to work harder and receive rewards in return, they're more likely to put increased productivity high up on their to-do list.
8. Motivate Employees
Acknowledge with gratitude to all employees how much the company appreciates, respects and values them on a personal level.
Bottlenecks In Increasing Productivity
The process of increasing productivity has to face certain crucial bottlenecks:
1. Gamut of Governments Rules
Various taxation issues.
Environmental laws.
2. Regulations and licensing regulations.
3. Misuse and tweaking of trade union rules.
4. Management Limitations
Changing environment.
Natural and accidental disasters.
5. Employee-Related Issues
Human limitations.
Unskilled employees.
Employee attitude which can be stubborn at times.
This holds an equal degree of relevance to both – a new business or an existing business.
Wrapping Up
It is quite evident that boosting Productivity in business enjoys primacy.
Happy employees are valuable assets to any business.
Tweaking little changes in habits can go a long way.
Better results in a shorter time become a reality.
Concentration on avoidable and wasteful tasks is just not permitted, should you aspire to steer your business to a profitable trajectory!!
"Productivity is being able to do things that you were never able to do before"

Franz Kafla