The pandemic CORONA COVID-19 has been wreaking havoc far and wide. Business Owners across the spectrum have been reeling under the sinister influence of the pandemic.
As business owners are you WORRIED ABOUT
Supply chain disruptions?
Management of work environment compelling employees to work remotely from home?
Tedious travel restrictions?
Daunting cash flow management?
Shortages of key inventory driven by panic buying and avoidable stocking up?
Yes, we are struggling with general market uncertainty and a slowdown in demand!
But not to despair! It is absolutely imperative to revisit various areas which have adversely impacted the business environment- both at the micro and macro level.
"Covid is a time for cleaning and introspection." ― Bert McCoy


We must immediately formulate A CHECKLIST OF ACTIONS required to be taken.
1. Management of your Finances and Working Capital
This is broadly divided into 5 parts:
(A) Have you reassessed the normal operating cycle of your entity?
The normal operating cycle of an entity represents the time between the purchase of raw material and cash collected from debtors.
(B) What is your working capital requirement?
Here you need to look at:
Does your stock require a write- down?
How much reduction in turnover is expected?
Review the customers to whom you were supplying to assess the future order.
Re-assess the debtor payment cycle.
Re-assess what extra time can be obtained for payment to creditors.
Can you postpone some payment of wages and salary and other statutory dues?
Analyse availability of cash flow for next three- six months to sustain even with reduction of turnover.
Assess gap for funding required for 6 months to 1 year.
Have you considered bill discounting?
Do you see red flags in the credit payments to your supplier or customer who pays on credit?
Have you considered obtaining a credit report from your customers and suppliers?
(C) Do you need to improve your liquidity situation?
Would you like to avail a loan?
Have you considered the 'pari passu' clause? Pari–passu is a Latin word for "equal footing"—is a financing arrangement that gives multiple lenders equal claim to the assets used to secure a loan. If the borrower is unable to fulfil the payment terms, the assets can be sold, and each lender receives an equal share of the proceeds at the same time.
Would you like to go for benefit in availing relaxation on working capital by banks?
Do you know your credit rating?
Have you considered maintaining a good credit score which will help you get a better loan and better business?
Have you considered asking your shareholders for equity infusion?
(D) Are you aware of the credit support for MSMEs?
RBI has allowed moratorium for certain period.
Check the various benefits or relaxation given by RBI regarding your credit exposure.
Government has also come out with sector specific benefits and relief measures.
Examine the same and evaluate whether it is applicable to your business or not.
(E) Have you analyzed the financial statements and important ratios for decision-making?
Re-assess crucial ratios in the pre-Covid and Post- Covid periods to work out remedial actions.
Such Ratios are:
Working capital ratio
Debtor turnover ratio
Average collection period
Creditor turnover ratio
Average repayment period
Stock/inventory turnover ratio
2. Entering the Formal Economy
Two vital points for consideration here are:
(A) Have you registered your MSME with the Udyog Aadhar website?
Registering as MSME has benefits like the recipient of goods/services from MSME is bound to pay within 45 days of such receipts. Registration is free.
(B) Would you like to corporatize your MSME or convert it into an LLP?
Benefits of LLP/Corporatisation are:
Limited Liability
Separate identity from owner
Once your MSME is a part of the formal economy it will be able to get access to finance and to export
3. Liquidity is the Lifeline
Here, the actions involved are:
(A) Prepare short-term, medium-term, and long-term forecasts as per various scenarios?
and Analyse:
Which expenses could be reduced such as travel and marketing?
Which expenses could be saved?
Which could be the additional expenses?
Which operations/line of operations can be temporarily paused?
Which assets may not be purchased currently taking benefit of reduced price?
Focus on products that provide more cash flow.
Have you considered reducing your capex?
Have you considered renting less building space as per your optimum needs?
It is Important to analyse how long the cash resources will last and consider availing financing accordingly.
(B) Conduct a Sensitivity Analysis or Shock Analysis to help prepare better for scenarios?
Analyse the impact of the loss of a major customer or supplier or the prospects of a drop in sales by a significant margin of say 20%.
Prepare best and worst-case scenarios.
Consider the impact of COVID 19 resurfacing again after a period of time.
Consider the possibility of developing new customers.
Consider the possibility of developing new and lateral products.
(C) Are you worried about meeting Fixed Costs including Leases?
The most emerging challenge during the lockdown period as well as in the post-COVID -19 period would be meeting fixed costs.
While this will be burdensome in absence of regular funds flow, the problem will be more intensified if Banks/NBFC create pressure on MSMEs for repayments of the dues.
Negotiate rent agreements applying the 'Force Majeure clause' implying treating COVID 19 as an Act of God.
Consider lease break options.
Explore payment deferrals.
Explore lean manufacturing by sharing infrastructure like packaging facilities.
Keep bankers informed of your efforts and look out for reliefs offered by state governments.
(D) Are you facing an Escalation of Product Prices In the post-COVID-19 period?
If yes, then need to represent with CBIC for a reduction in GST Rate or search for an alternative vendor for continuity in the supply of products.
(E) Go Lean?
Use the optimal level of staff and other resources like water, gas, electricity, fuel etc.
Switch to more local suppliers.
Identify inefficiencies.
Waste recycling to reduce costs.
4. Digitisation, Internal Controls, and Risk Management
This is divided into 5 parts:
(A) Have you assessed the weaknesses in your internal control which got highlighted during the lockdown.
Which internal controls are weak?
Do you need to set up Standard Operating Procedures in areas like approval and payments?
Is your data secure at the time of remote working?
(B) Do you need to carry out a Due Diligence post the Lockdown.
Would you like to take a stock of your assets post lockdown?
Would you like to value your assets?
Which assets may be sold off to raise cash?
(C) Have you got your Trademarks Registered?
It is important at this time to protect your Intellectual property.
(D) When did you last review your IT systems?
Invest in cyber security.
Be aware of scams, Phishing and cyber crime.
Use current version of software.
Use a good quality firewall.
Take back up of data.
Do frequent trainings on IT tools.
Do virtual meetings.
What percentage of your business is digitized?
Do you use cloud-based accounting software?
(E ) Have you taken Insurance
Consider what your insurance policy covers
Does your insurance policy cover loss of business and insolvency?
Are your assets covered
Is the life and health of the owner covered?
Is the life of the employees covered?
What additional insurance do you think your business would be better off taking?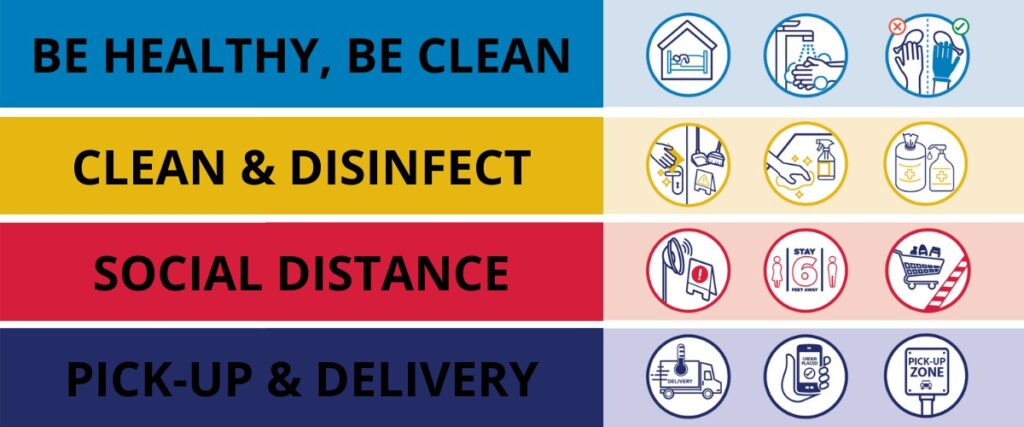 5. Social Distancing at Workplace and Taking Care of Employees
This is divided into:
(A) Have you thought about the physical distancing of a minimum of 6 feet of your employees at the workplace?
Have you provided them with sanitizers, soap, and PPE where required?
Do you get the office premises sanitized?
Do you ensure the use of masks, sanitizing and social distancing?
Do you provide your employees with PPE where needed?
Have you rearranged the office furniture so that a distance of 6 feet is maintained between employees at workplace?
Have you thought through staggered working hours and staggered meal timings?
(B) Are you allowing Work from Home to those who have the infrastructure to do so?
Have you provided laptops and other IT equipment to your employees?
Do your systems and processes need to change?
Do you allow flexibility?
Do your sick leave and vacation policy need to change?
Have you considered giving leave to employees without pay?
(C) Do you boost the Morale of your Staff
Involve staff by asking for ideas on how the business can succeed.
Express faith in staff.
Keep in touch through virtual meetings and keep the morale up.
Be transparent about the state of affairs.
WRAPPING UP

CARONA COVID 19 has taken a very heavy toll on the economy and businesses all across the spectrum. No laxity can be afforded. To salvage the situation all agencies, particularly the business world has to muster all their efforts. Strong and systematic palliatives can only save the situation from further deterioration. Time is of the essence. Everyone must respect the call!!!
"…… Even if we are losing a lot to Corona, one thing I know. We might lose some battles, but we will win the war. Things will be right again. Whatever we lost, we shall regain. We will overcome. Just don't lose hope and spirit to fight – (De Philosopher DJ Kyos).